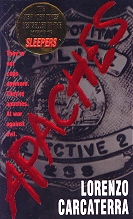 Remember these names. Boomer. Dead-Eye. Pins. Geronimo. Reverend Jim. Mrs. Columbo. They were great cops. The best cops. But they are cops no more. Now they are apaches -- a renegade unit working on their own.
It is the early 1980s. Crack cocaine has made its devastating appearance. Violence is escalating and so is an unnerving lack of morality. Things are happening that have never happened before.
One of those things is the brutal kidnapping of an innocent 12-year-old girl. But the kidnapper has made a deadly mistake. He has brought Boomer Frontieri back to life, back to the streets. And back into action. A New York City detective forced to retire after being wounded in a drug bust, Boomer thirsts to return to the life he loved -- the life of a cop. When an old friend turns to him for help, Boomer has the excuse he needs. And when the simple kidnapping turns into something more, something much more evil, even more horrifying, Boomer realizes that he can once again find a way to serve justice.
There are others like Boomer. Cops who can no longer be cops. He brings them together, bringing them back to life as well. Even as they face almost certain death. APACHES is the story of an extraordinary band of cops. Some might call them criminals. Some might call them heroes. But theirs is a world where good is always shadowed by bad, where right is almost indecipherable from wrong, and where the living can, within mere moments, cross over to the world of the dead.
With this novel, Lorenzo Carcaterra returns to the mean streets he knows so well. And in doing so, he has written an explosive, electrifying, and startling book.
---
"Riveting . . . Nonstop reading."
--The Atlanta Journal & Constitution
"PULP NOIR . . . APACHES showcases Carcaterra's ability to create chillingly evil characters and a world horrifying in its depravity."
--The Washington Post Book World
"ONE OF THE MOST INTRIGUING WRITERS AROUND . . . Readers will no doubt die for this stuff."
--Newsweek
"A COMPELLINGLY READABLE NOVEL . . . Think of it as The Magnificent Seven Does New York."
--The Dallas Morning News
CARCATERRA "WRITES WITH THE PASSION OF STYRON, THE GUTS OF MAILER, AND THE STING OF JAMES M. CAIN."
--William Diehl