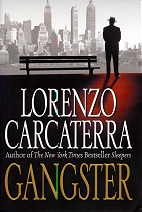 Love. Violence. Destiny. These powerful themes ricochet through Lorenzo Carcaterra's new novel like bullets from a machine gun. In GANGSTER, he creates a brutal and brilliant American saga of murder, forgiveness, and redemption.
Born in the midst of tragedy and violence and raised in the shadow of a shocking secret, young Angelo Vestieri chooses to flee both his past and his father to seek a second family -- the criminals who preside over early twentieth-century New York. In his bloody rise from soldier to mob boss, he encounters even more barbaric betrayals -- in friendship, in his brutal business, in love -- yet simultaneously comes to understand the meaning of loyalty, the virtue of relationships, and gains a perspective on the lonely, if powerful, life he has chosen.
As the years pass, as enemies are made and defeated, as wars are fought and won, the old don meets an abandoned boy who needs a parent as much as protection. By taking Gabe under his wing and teaching him everything he knows, Angelo Vestieri will learn, in the winter of his life, which is greater: his love for the boy he cherishes, or his need to be a gangster and to live by the savage rules he helped create.
A sweeping panorama with riveting characters, a unique understanding of the underworld philosophy, and a relentless pace, GANGSTER is a novel that travels through the time of godfathers and goodfellas to our own world of suburban Sopranos. But this is more than just an authentic chronicle of crime. GANGSTER is a compassionate portrait of one man's fight against his fate -- and an unforgettable epic of a family, a city, and a century.

WATCH AND LISTEN AS LORENZO TALKS TO PUBLISHERS WEEKLY ABOUT GANGSTER
Lorenzo Carcaterra talks about the creating of the novel GANGSTER,
including the characters, the basic idea for the novel and the two types
of book that the novel became.
---
"A BRILLIANT, MULTI-LAYERED NOVEL THAT BREATHES AND BLEEDS ON EVERY PAGE. This book transcends the genre of 'crime fiction.' It is a full-blooded novel and an epic read."
-- Robert Crais
Carcaterra's latest crime novel is the tantalizing coming-of-age story of orphan Gabe, groomed by longtime New York City mob boss Angelo Vestieri to be his successor ... As he did in Sleepers and Apaches, Carcaterra shows dexterity in humanizing the denizens of the urban underbelly. Through a fine characterization of the enigmatic Vestieri, he provides a stirring perspective on the ways of mobsters and their history.
-- Publishers Weekly
"The world of gangster Angelo Vestieri is one of day-to-day survival through murder and brutality. Author Lorenzo Carcaterra shows readers Vestieri's life, from his early days to his final gang war, through the eyes of both a former love and the boy the old don takes under his wing. The story of Vestieri's ruthless rise to power is gripping, thanks to both the writing and Joe Mantegna's powerful narration. Mantegna fully inhabits his characters, capturing their emotions and personalities well with his voice and bringing humanity to even the worst actions. Carcaterra doesn't shy away from violence in his account, and many scenes are graphically described."
-- AudioFile
"Carcaterra is the author of the widely applauded novel Sleepers (1995), made into a movie, about boys growing up in New York City's Hell's Kitchen. His latest novel is no less brutal as he brings his readers into the world of urban organized crime. The novel is structured around the remembrances of a man who, as a boy, was a junior member of the New York Mob run by big-time gangster Angelo Vestieri. The life of the gangster, who now lies dying in a hospital, is laid out in graphic, intimate terms as the narrator reconstructs the old man's life from his childhood in Italy through his years as a gangster in the thick of the New York crime underworld. The irony is that the old gangster's father had brought him to New York from the Old Country as a bambino, in the early years of the twentieth century, to get him away from the clutches of the Mafia that claimed the souls of children and the lives of men. In the New World, though, the boy was brought up in a cramped tenement with little family love, the seeds of his brutal adult life sewn in the streets of Manhattan. What makes Carcaterra's portrait of Vestieri so effective is not only the "adventures" Vestieri experiences in a career so cold and calculating, but also the author's psychological fathoming of the kind of character that turns to a life of organized crime. Expect high demand for this very compelling drama."
-- Booklist