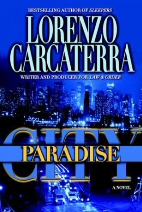 As a 15-year-old in New York, Giancarlo Lo Manto learned about injustice the hard way. His father was gunned down by the Camorra, the murderous clan run by Don Nicola Rossi. When his mother moved him back to his family's ancestral home in Naples, Gian found himself face-to-face with the source of the mob's strength.
Today, 23 years later, he is a homicide detective on the Naples police force, the toughest cop on the toughest beat in Europe, dedicated to tearing out the mob at its base. His efforts have not gone unnoticed.
In the highest towers of the most expensive streets of New York City, a plan is hatched to bring Lo Manto back to America -- permanently. When Gian learns his teenage niece has gone missing in Manhattan, the two cities, the two worlds, are set to collide.
Gian's homecoming will be anything but smooth. Someone must always watch his back, and Detective Jennifer Fabini gets the job. A gifted officer with her own personal demons, Jennifer expects Gian to be a peasant from the old country. Instead, the handsome, reserved, unrelenting cop is a revelation: an irritant and a temptation. Together the two must solve a disappearance that seems to be just a kidnapping...but turns out to be a deadly trap.
As they dash from the sun-drenched villages of Italy to the darkest drug dens of New York, their journey links old-world honor and modern-day danger. PARADISE CITY is at once a crime novel and an exploration of Lorenzo Carcaterra's trademark themes: violence and innocence, love and revenge.
READ AN INTERVIEW WITH THE AUTHOR
---
REVIEWS
"Few writers on the scene today weave a yarn with such relentless fervor as Lorenzo Carcaterra. His characters emerge from the page and enter the room with you, compassionate and honest, whispering in your ear, their dialogue as hard as a diamond cutter, their stories as compelling as a killer's confession. That's because Carcaterra has walked the walk, talked the talk, and lived the stories whereof he writes. So take a deep breath, hang on for dear life, and go for the ride wherever he may take you."
-- William Diehl, author of "Primal Fear" & "Sharky's Machine"
"No one captures the sound and sense of the streets of New York City like Lorenzo Carcaterra. More than any other New York-based crime writer he gets the city. His characters sound like the real thing, whether cops or criminals. PARADISE CITY is Carcaterra at his best. A page-turner with a real hero at its center."
-- Gary Fidel, Executive Assistant District Attorney, Queens County District Attorney's Office and Technical Advisor for "Law & Order"
"PARADISE CITY is a riveting tale of law and disorder in the city that never sleeps. Anybody who wants the straight story on NYC or the NYPD will love Lorenzo Carcaterra's action-packed, breathlessly paced novel."
-- Leslie Snyder, former Manhattan Supreme Court Justice and author of "25 to Life"
"No one can doubt Carcaterra's firsthand knowledge of the mean streets of New York (see his bestselling memoir, Sleepers), his extensive vocabulary of cop-speak (Apaches) or his expertise regarding the city of Naples (Street Boys)...[Readers] will have a perfectly good time following Lo Manto and his unusual allies."
-- Publisher's Weekly
"PARADISE CITY is a fantastic crime thriller, filled with plenty of action, a touch of romance and great character development."
-- Harriet Klausner