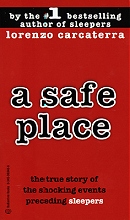 On his deathbed, Mario Carcaterra asked his son, Lorenzo, a simple question: "Do you love me?" Lorenzo's answer was equally simple, although heartbreaking. His answer was "No."
A Safe Place details a relationship startling for its violence and passion, devastating in its psychological ramifications, yet important and even uplifting for its ability to grab hold of and confront the truth.
At one time, of course, Lorenzo Carcaterra did love his father. Yes, the older man was rough, often shockingly violent -- beating Lorenzo's mother and Lorenzo himself -- but such violence was a way of life in Hell's Kitchen, New York, in the fifties and sixties. And the violence was often tempered with warmth and affection. Lorenzo and his dad sat side by side at the fights at Madison Square Garden, they savored Italian ices on street corners in the summer, they took the subway to the ballpark to root for their beloved Yankees. And then, when Lorenzo was fourteen years old, he learned that his father had murdered his first wife, had smothered her with a pillow in a jealous rage when she threatened to leave him.
This news shattered Lorenzo. He couldn't look his father in the eye, couldn't respect the man he had respected above all others, couldn't feel love for the man he adored. Worse, he became terrified for his own future: Did he, Lorenzo, have that same murderous rage within him? The question began to haunt him, to dominate his life. And he began to hate his father, a hate that festered and grew as his father became more and more abusive -- to Lorenzo, to Lorenzo's mother, to the world around him.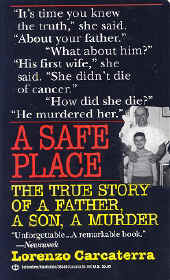 A Safe Place is a book of many dimensions. It is an evocative portrait of a time gone by, a time of Italian immigrants standing in fire-hydrant showers in the sweltering New York streets, a time of both great innocence and great fear. The book is also, in many ways, an intimate BIO of two people, Lorenzo's parents: his Italian immigrant mother, barely able to speak English, marrying a man she did not really know -- a woman whose American dream turns into the ultimate nightmare; and Lorenzo's father, a con man, a street brawler, a man totally given over to his passions and skewed dreams, a man who ultimately damages everything he has ever loved, including his son, including himself. But it is also a story of hope and reconciliation, as a young boy grows into a man capable of refusing his father's brutal legacy.
It took decades for Lorenzo Carcaterra to find the strength to explore the stunning truth about his father. A Safe Place is the powerful result.
---
"UNFORGETTABLE...A remarkable book."
-- Newsweek
"PSYCHOLOGICALLY HARROWING."
-- Publishers Weekly
"This is a heartfelt, vivid tale with agonizing denouement."
-- Library Journal
"Carcaterra is amazingly honest about his admiration and love for his father ... (His) writing is clear and detailed...Interesting and moving reading for anyone - it's like listening to someone articulate emotions that seem beyond words and beyond explanations."
-- The Deseret News, Salt Lake City
"HIGH DRAMA AT ITS BEST... AN ASTONISHING TALE."
-- Elmore Leonard
"Dramatic, graphic and wrenching."
-- The Washington Post
"Haunting, fast paced."
-- People
"This honest and riveting account will make you shudder and read on."
-- Gay Talese